The Dordogne Area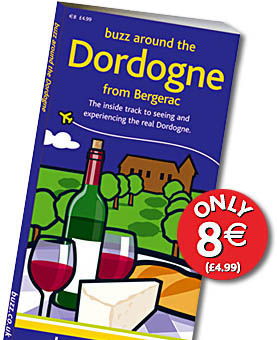 The owner of the Bourdil Blanc Jane Hanslip has written a travel guide for the area. It includes all the information here and much more including the best restaurants in the area, places to take the kids and a whole section for wine buffs.
It is a perfect accompaniment to your holiday and a fine source for research, please contact us if you would like to buy a copy
The Bourdil Blanc is ideally situated for exploring this area situated 11kms from Bergerac and 2 kms from the Dordogne river
There is much to see and visit, to name but a few:
The morning food markets full of regional food delicacies
The bastide towns (mediaeval walled cities) and churches
Sarlat "the best preserved mediaeval town in France"
Lascaux caves and their underground prehistoric cave paintings
Canoeing trips on the Dordogne
Shopping visits (antiques, Limoges porcelain)
Wine tasting at nearby chateaux
We have a local guide who can plan and spend a day with you showing you the highlights of this area or you can explore by yourselves but you will need a car.
The Dordogne is an area of outstanding natural beauty, one of the most beautiful in Europe, not dissimilar to Tuscany. This is a green land of farms, lovely wooded hillsides and gentle winding rivers. It is still unspoilt, it is really rural France at its best. Long let it remain this way.It is one of the gastronomic centres of France after Lyon, famous for its foie gras, duck, truffles, mushrooms and seafood. There are many excellent inexpensive restaurants in the area using traditional cooking recipes.
It is also well known for its wines. The world famous vineyards of Medoc and Saint Emilion are close by and the local wines of Bergerac, Pecharmant, Montbazillac and Cahors are also excellent.The area is rich in pageantry. The English ruled Aquitaine for 300 years in the Middle Ages under the Plantaganets and there are many castles, bastide towns and fortified churches to visit.The Dordogne and Vezere valleys are world famous for the art of prehistoric man at Lascaux, known as the 'birthplace of art'.
In brief the charms and beauty of this part of France combined with great horse riding and marvellous local gastronomy prove an attractive formula for clients who appreciate not only natural beauty but also the finer aspects of life.
Here are some suggested trips
Around Bergerac
Visit the old town and take a small trip on the Dordogne by boat. Market days are Saturday and Wednesday until 12 noon, antique market the first Sunday of the month until 12 noon.
The 13th century bastide villages
Drive to Lalinde, then to Molieres, Abbe de Cadouin, Beaumont and Monpazier.
In Monpazier there are two marvellous shops: Intermede for Provencal material and lots of lovely presents (opposite the Hotel des Anglais) and the clocksmith who sells and repairs antique clocks in the village square. Eat at La Bastide.
Then go to Biron to see the chateau, eat or have a drink in the restaurant opposite the chateau.
Then go to Villereal, Castillones (you can eat at Les Remparts), Issigeac and then back via Mouleydier.
If you have the energy you can also go to Eymet (eat at le Restaurant Italian des Arcades) after Issigeac and back via Bergerac.
Perigueux
Visit the old town , the cathedral and the Roman theatre. Market days are Saturday and Wednesday until 12 noon. You can combine Perigueux with a trip to Brantome and Bourdeilles.
Brantome and Bourdeilles
Brantome is known as the Venice of the Dordogne. Very lovely. Don't forget to go early evening so you can dine at Moulin des Abbayes and the nearby village and chateau of Bourdeilles is well worth a trip.
The Dordogne Valley
Go to Lalinde, Mauzac, Tremolat, Limeuil, Le Buisson, Siorac, Beynac, Roquegageac, Domme, Sarlat and then back via les Eyzies, Le Bugue, Pezuls, Sainte Foy de Longas and Liorac. Market day in Lalinde is Thursday am until 12 noon, one of the prettiest markets in the area. Lunch at la Forge. Sarlat has won a prize as the best preserved mediaeval village in France. Wonderful but best out of season as it gets very crowded. Market day is Saturday until 12 noon. Dine in Domme at L'Esplanade, which has marvellous views.
You really need to do the Dordogne in at least two separate trips, since there is such a lot to see. Le Chateau de Beynac at sunset is spectacular (dine well at the Hotel du Chateau).
The Pre-historic caves
Drive via Liorac, Sainte Foy de Longas, Pezuls, Le Bugue to Les Eyzies and the caves then on to Lascaux, back via Tremolat and Lalinde.
The vineyards of Bergerac
Drive via Bergerac to Montbazillac (visit the chateau) and then to Pomport to a wine tasting at Chateau Belingard (Comtesse Sylvie de Bosredon) (call her before arriving on 05 53 58 28 03), Sigoules, Saussignac, Duras and then back via Eymet, (eat at Restaurant des Italians), then Issigeac and Mouleydier.
Visit chateaubelingard.com
A day of golf at Chateau des Vigiers, Saussignac (27 holes)
Lunch at Saussignac if you want something nearer try the nine hole golf course at Mouleydir (Chateau des Merles)
Click here to visit the web site.
Saint Emilion and the vineyards
Drive via Bergerac and Saint Foy Ia Grande to Saint Emilion, stopping on the way at Velines LFB to buy Limoges porcelain at good prices. Just behind the
shop visit the gardens les Jardins de Sardy. Visit a lovely shop selling leather bags and belts right in the center of Saint Emilion. Lunch at L'Hostellerie de Plaisance in Saint Emilion or if not on the way back at Port Sainte Foy (Au fil de l'eau)
If you would like more information on the Dordogne area or anything else on the web site, please click on the "contact us" button above and we'll get back to you as soon as we can.